Sioux Art
The Sioux Indian Tribe was one of many tribes that lived and hunted in Nebraska.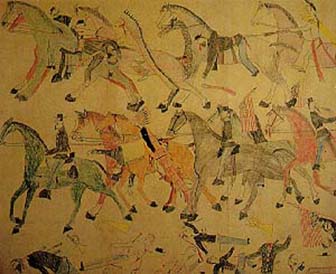 They resided mainly in the northwest part of Nebraska, and moved from place to place as nomads. The Sioux did not stay in the same place very long for various reasons.
Art is a very important part of the Sioux's life. They decorated and bejeweled their moccasins and many other types of clothing with beads. They were much known for making star quilts which are quilts with star designs on them. The Sioux used some of the buffalo skin to make art designs to tell stories of the tribe with pictures. The many Sioux stories are referred to as Winter Counts. The Sioux Indians also adorned their tepees with art. The Sioux Indians were also known for their doll making.
The Sioux Art represents the Sioux peoples culture, their beliefs, visions and dreams. This fact is what makes their art so invaluable. The Sioux Indian peoples works of art forever tells a story.
Sioux Beaded Art
Authentic beaded art is made with the finest hand made materials and the same natural materials used in the Plains Indian culture such as deerskin, glass, bones and horn. Authentic beaded art is also based on long-established designs.
Because authentic beaded art is hand-made, there are no two works of art that are precisely alike. There are variations in cut, color, and beads etc. which make each work of art unique.
Where Can I Find Sioux Art
Sioux Indian art has become very popular throughout the world and is very much sought after. Sioux Art can be bought from various Internet Native American Online Art Stores as well as from various specialty stores that sell Native American Art. The art is reasonably priced to sell.
Related Stories:
Sioux Art
Articles Home Page
---
---
Share This Page with Your Friends