American Indian Movies and Videos
Native American Indian movies have been few and far between.
Whether you are dealing with the portrayal of Native Americans in movies or the actors themselves, Hollywood has come a long way, when dealing with Native American Indian movies. However, Hollywood still has a lot more to overcome. Just as the African American and Hispanic actors have overcome many obstacles, the Native American finds that they too, have many barriers to face when dealing with Hollywood and the portrayal of Native American Indian movies.
The first introduction to Native American Indian movies would be that of the old westerns. However, the old westerns typically portrayed the Native American as a savage beast seeking the "white man" to kill and destroy. This depicts the Native American as uneducated and wild: the Injun Joe as portrayed in Huckleberry Finn.
This is similar to the early roles that were given to the African American. Many of those roles were also based on stereotypes and falsehoods.
Hollywood hasn't been too kind to Native American actors in the past, especially in the early years. However, today many Native Americans have made their impact on Hollywood fans. Some of the most famous Native Americans featured in movies include Johnny Depp, Cher (who is part Cherokee), James Garner (Cherokee), Benjamin Bratt, Kevin Costner, Lou Diamond Philips, Wayne Newton, and Demi Moore.
Some of the more famous Native American Indian movies include: Dances with Wolves (which was directed by Kevin Costner). A Man Called Horse (which is the story of a wealthy man who is kidnapped then lives with the Native Americans, after a spiritual awakening he changes his ways and becomes their leader).
Last of the Mohicans (which takes place during the French and Indian War); The Black Robe (the story of a Jesuit priest and the Algonquin Indians).
Other Hollywood films, which focus on Native Americans that were significant, include: Broken Arrow, Crazy Horse, Geronimo, How the West was Won, and Greyeagle.
Preserving cultural facts of a race of people has become possible through native American videos. Native American movies and videos go beyond the written word of books. Americans, especially, have become very visual people, so native American videos can teach where other methods can not.
Native American movies and videos can touch the hearts of viewers. Realistic portrayals of past history, of a nation content to live in harmony with the land and animals stimulate understanding and compassion.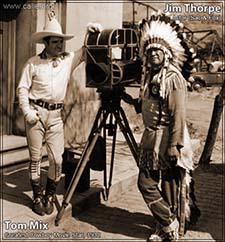 Some American Indian videos portray how native Americans fought to protect their land. Native American videos speak out about the abuse suffered, and how the native american's legally owned land was illegally seized and forced away from them. Accounts of personal experiences can be found on native American videos, as well. Modern day women may find the lives of native American women on native American videos to be fascinating.
Geronimo, Sitting Bull, the battle of Wounded Knee, these are just a few examples of themes of native American videos. Native American videos are a wonderful teaching tool, and have been employed for this purpose by universities and libraries and schools.
It's true that one can spend many pleasant hours being entertained by native American videos. But the real purpose of native American videos go beyond entertainment. Why not take advantage of the education value of native American videos, and learn about the richness of life, their history, and their culture.
You can even watch some of the stunning craftwork that native Americans made a part of their daily lives through native American videos, like the beadwork that was so prominent on clothing. Or watching the basket weaving skills and even learning how to weave baskets yourself is possible with native American videos.
If you have native American blood flowing through your veins, some native American videos have been designed to help you trace your heritage, and your tribe.
Another benefit of native American movies and videos goes beyond sight. Native American language is spoken, cultural music can be enjoyed, and meaningful drum beats at pow wows can be heard. Native American videos, if properly used are encouraging for all of us to respect and care for our environment.
Native American videos show how the native Americans were accurate keepers of time, even to the point of being able to predict when solar eclipses would make their appearance. You can learn agricultural points of interest from native American videos, like how native Americans developed over three thousand types of potatoes, and of course corn and great northern beans.
Medicinal practices through the used of common every day herbs, as well as even surgical techniques many of us would never be aware of or understand, come to the fore in native American videos. Rather than a time of family gatherings and displays of gratitude, the original murderous meaning of the Thanksgiving holiday can be found on some native American videos.
Whatever one is able to glean from native American videos, a new respect for a proud though humble nation of people can be cultivated.
Related Stories:
Indian Movies
Dances with Wolves
Articles Home Page
---
Share This Page with Your Friends