Indian Motorcycles
The Indian Motorcycle was this country's first motorcycle.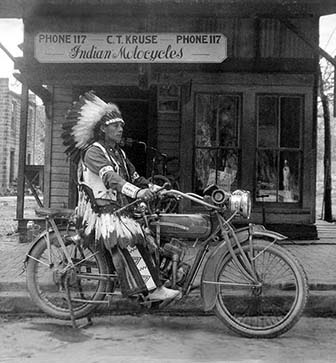 The Indian Motorcycle was the country's first motorcycle. It was created in 1900 by two men who were both engineers and bike enthusiasts. Their partnership formed the Hendee Manufacturing Company, named after George Hendee, who was a bicycle racer at the time.
In 1904, Indian motorcycles won a gold medal for mechanical excellence at the St. Louis Exposition, the only motorcycle to win such a medal. By 1914, the Indian motorcycle had become a common and very recognizable name. Their factory was known as "the wigwam", and people all over the country were vying for their very own motorcycles. But the development of motor vehicles by Henry Ford was fast becoming stiff competition for the company. Over the next decade, the Indian Motorcycle Company began developing better engines, new models, and fast bikes to encourage the public's support.
Once the Great Depression struck, many different industries suffered a great deal of financial loss. The Indian Motorcycle Company almost went bankrupt, but a man by the name of E. Paul DuPont took over the company and saved it from complete ruin. His ideas brought new colors and designs to the bikes, increasing sales and production. This was largely influenced by the art deco movement at the time.
By the time 1953 arrived, Indian motorcycles' profits and production had gone down in numbers. Some police forces opted to use them for their motorcycle police fleets, but in general the company had taken some very significant losses. Over the course of the next 40 years or so, the Indian motorcycle name had all but vanished until 1999, when the company merged with other manufacturers, and its Chief model came back onto the production lines. Today, Indian motorcycles are still a popular choice for the bike enthusiast, and have become synonymous with good, quality motorcycles.
Related Stories:
Indian Motorcycles
Articles Home Page
---
---
Share This Page with Your Friends