Indian Flag
Many US states include an indian flag with their own.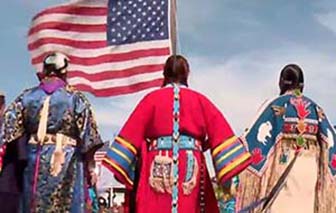 Because the Native Americans were the first people in this country, many of the United States of America flags consist of Native American Indian imagery and symbols. Some states that have a Native American Indian flag include Massachusetts and Oklahoma. The city of Grand Forks, North Dakota also uses Native American symbolism on their flag.
The Massachusetts State Indian flag shows a picture of a Native American Indian in traditional dress on a shield. The Native American is from the Algonquin tribe. He is shown carrying a bow and arrow with the arrow pointing downward. This is a Native American symbol meaning peace. The star that is shown on the Indian flag represents that Massachusetts was one of the original colonies. There is a blue ribbon, which is on the bottom of the shield, which signifies the Blue Hills Reservation in Massachusetts. The Latin words inscribed on the shield mean, "By the sword we seek peace, but peace only under Liberty".
It is said that the Massachusetts Indian flag has been used since the American Revolution. This flag is the same for the governor; only the shape of the flag is a triangular pennant.
The other Native American Indian flag that is used by one of the American states is the Oklahoma state flag. The Oklahoma state flag displays a Buffalo skin shield against a blue background. Seven Eagle feathers surround the shield. This is a shield from the Osage Nation. Two symbols of peace are placed upon the shield the Peace Pipe and the Olive branch. The Peace Pipe represents the Native American tribes and the olive branch represented the Caucasian settlers. The symbolism of the two peace emblems was a wonderful representation of the unity and peace treaties that were enacted by those in Oklahoma and the Native Americans.
Related Stories:
Indian Flag
Articles Home Page
---
---
Share This Page with Your Friends