Handmade Moccasins
Feel the difference of handmade moccasins with padded lining for extra comfort.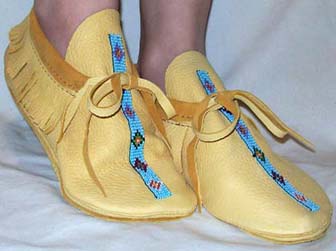 Native Americans are known for their handmade moccasins, which are not simply typical Native American footwear, but are a good source of income nowadays for Native American craftsman. The typical handmade moccasins are soft soled, made entirely of leather, and are sewn together with strong fibers. There is usually an intricate bead design at the front using a pattern of brightly colored beads. Handmade moccasins may also have leather fringes at the ankle. Many people nowadays buy handmade moccasins for comfortable wear at home, whereas Native Americans wore soft-soled handmade moccasins all the time. In spite of the soft soles, the rugged leather could stand a lot of wear and tear, snow and rain. Handmade moccasins should be protected from moisture. Native Americans traditionally used fat to keep rain and snow from ruining handmade moccasins.
Deer skin was the most common material used in traditional homemade moccasins. Deer leather is known for its velvety softness and its toughness, as well as its ability to hug the foot and fit like a glove. Deer leather is durable for long life, and the best handmade moccasins are made of deer leather. Although deer leather handmade moccasins are more expensive, they need to be replaced less frequently than handmade moccasins made from other leathers.
Today, handmade moccasins may be made of harder leathers and have firm soles. These are intended for everyday wear, and are quite different from Native American homemade moccasins, but are still more comfortable than typical shoes. These moccasins can be worn anywhere and are a common fashion accessory. However, many people prefer the soft-soled handmade moccasins, and may wear them out, especially the long moccasins that cover the entire leg. There are also many handmade moccasins that are designed for children, and the soft leather is perfect for young, growing feet.
Related Stories:
Homemade Moccasins
Articles Home Page
---
---
Share This Page with Your Friends