Crater Lake
Discover why Crater Lake in Oregon is widely considered one of the most beautiful lakes in the world.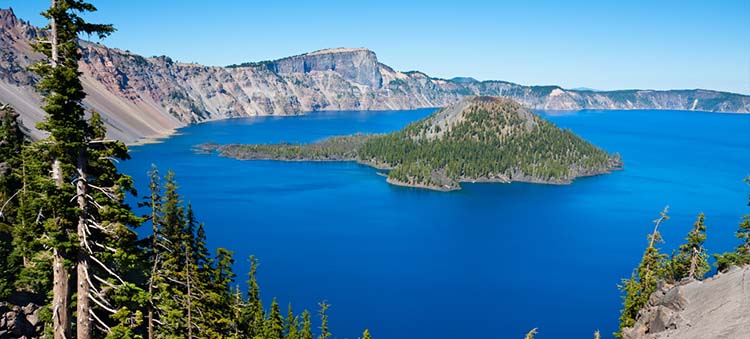 Those who have seen many lakes in various parts of the world, an excursion to yet another body of inland water may seem unnecessary. However, visitors to Crater Lake are always shaken by the indescribable beauty of the area; and most often leave the lake with a renewed appreciation for the site. One Native American legend has it that the lake was formed by the tears of Coyote. Crater Lake is the seventh-deepest lake in the world, and the deepest in the United States. An average of 533 feet of winter snow add to the lake, providing 1,943 feet of crystal blue water at the lakes deepest point. Evaporation and water seepage help Crater Lake maintain a somewhat constant depth.
The actual lake lies along the crest of the Cascade Mountain Range, in Southern Oregon; hemlock, fir, and pine surround this gorgeous paradise. The crest is in a caldera, or volcanic basin, and appeared 7,700 years ago after the eruption and collapse of Mt. Mazama. Crater Lake has an eight month long winter; which means that visitors who wish to see this breathtaking place need to plan their trips accordingly. The sheer cliffs of the area make for a truly incredible view, as the majesty of the area is evident everywhere you rest your eyes.
Crater Lake National Park is actually the Nations sixth-oldest National Park, and was created in 1902. The park features 180,000 of beautiful scenery, which the Park Service is still working to protect. Visitors can enjoy an array of activities on their visit to the Park, including camping and skiing; however, many services are closed during the harsh and unforgiving winter months. No one leaves the wonder of Crater Lake without a deeper understanding of why officials worked tirelessly for 17 years to make sure that the area became a protected National Park.
Related Stories:
Crater Lake
Articles Home Page
---
---
Share This Page with Your Friends