Chief Seattle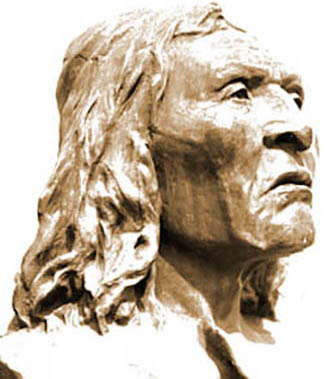 Chief Seattle chose to talk instead of fight for his tribes lands.
Chief Seattle is famous for his words rather than his actions. Chief Seattle was the son of the chief of the Suquamish tribe while his mother was from the Duwamish tribe.  He ended up as Chief of both tribes.  Although there are many different opinions about the affect that Chief Seattle had on the tribes, it is clear that he was faced with some difficult decisions.
During the time that Chief Seattle was leader of the tribes he had to deal with the expanding white population.  This expansion was changing the lives of many Native American tribes at the time.  Rather than taking the way of war, Chief Seattle decided to work with the White men. 
Though many people see this cooperation as a lesser of two evils, some individuals have a different opinion.  Some have criticized Chief Seattle claiming he was cowardly and it cost the tribe their land and their way of life.  However, the other Native Americans who chose to fight for their lands eventually lost.
Chief Seattle may have had this attitude do to his conversion to Roman Catholicism.  It was after one his son's died that Chief Seattle took comfort in Roman Catholicism.  He and his family were baptized and religion became a large part of the Chief's life.
One of the talents that Chief Seattle was most known for was his speaking ability.  When the Chief spoke his voice commanded attention.  Chief Seattle was known for his speeches, specifically the one titled, "Chief Seattle's Reply."  This was in Reply to a speech by Governor Isaac Stevens. The speech has been very popular despite notions that the speech was not translated properly.
Despite the ideas by some that Chief Seattle did not fight hard enough for the lands and the rights of his people, many individuals admired the man.  This was so true that the city of Seattle, Washington was named for the Chief. 
Related Stories:
Chief Seattle
Articles Home Page
---
Share This Page with Your Friends