Cherokee Indians
There are very few people in America today who have not heard of the Cherokee Indian Nation.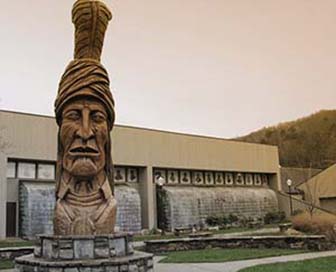 The Cherokee Indians were one of the largest of five Native American tribes who settled in the American Southeast portion of the country. The tribe came from Iroquoian descent. They had originally been from the Great Lakes region of the country, but eventually settled closer to the east coast.
Despite popular folklore, the Cherokee actually lived in cabins made of logs instead of the stereotypical tee pee. They were a strong tribe with several smaller sections, all lead by chiefs. The tribe was highly religious and spiritual. When the American Revolution took place, the Cherokee Indians supported the British soldiers, and even assisted them in battle by taking part in several attacks. The Creek and Choctaw tribes also assisted in the battles on the British side.
Eventually around the 1800s, the Cherokee Indians began to adopt the culture that the white man brought to them. They began to dress more European, and even adopted many of their farming and building methods. In 1828, gold was discovered on the Cherokee's land. This prompted the overtaking of their homes, and they were forced out.
They had been settled in Georgia for many years, but were now being made to leave and find a new place to settle. This is the origin for the historically popular Trail of Tears, where men, women, and children had to pack up their belongings and find new homes, marching a span of thousands of miles. When all was said and done, about 4,000 Cherokee lost their lives on the journey.
Today, the Cherokee Indians have a strong sense of pride in their heritage. The Cherokee rose is now the state flower of Georgia. Today, the largest population of Cherokee Indians live in the state of Oklahoma, where there are three federally recognized Cherokee communities with thousands of residents.