Canyon de Chelly
Horseback and hiking tours of Canyon de Chelly abailable with expert guides.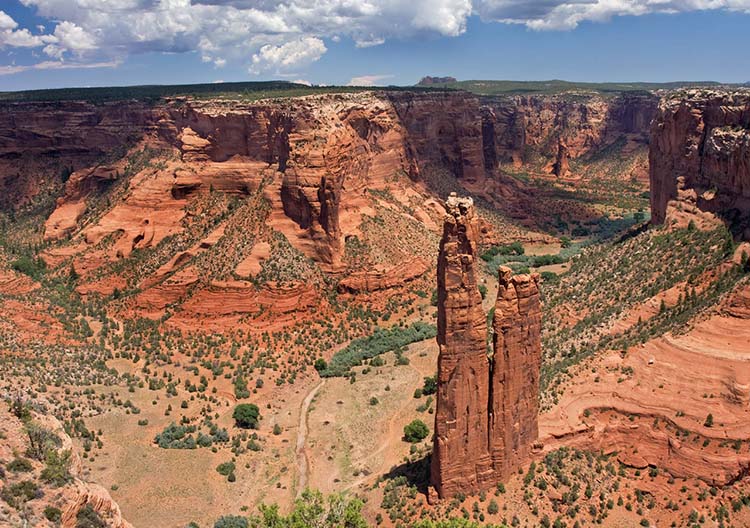 Not only do visitors to Canyon de Chelly get a taste of the unique beauty of the Southwestern desert, but the Canyon is also the ideal place to learn more about the Native American people who made their home in this harsh region. The Canyon is full of scenic wonder and is dotted with ruins of the Anaszai and Navajo people who lived here for hundreds of years. While you cannot see all there is to see on a single trip to Canyon de Chelly, the following is a list of suggested activities for the first-time visitor:
Take a vehicle tour. There are seven scenic outlooks along South Rim Drive on National Park Road 7 that will give you a breathtaking view of the Canyon. This drive includes the 800 foot sandstone spire known as Spider Rock and takes 2 hours to complete round-trip.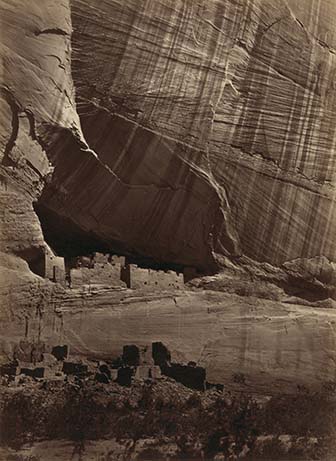 The scenic outlooks are accessible by most cars; however, there are some tours provided by Navajo guides that are only accessible by four wheel drive. Take a horseback tour. More adventurous visitors may consider making reservations for an equestrian tour.
There are 2 stables that provide this kind of rugged experience; and there are also extended trips and overnight excursions. A horseback tour allows you to see elements of Canyon de Chelly that are not visible by car; however, the trip may get arduous, so be sure to pack your stamina! Take a hiking tour. No visitor is permitted to hike within the Canyon without an authorized Navajo guide. The hiking trails provide access to beautiful outlooks and natural formations, but are not for the inexperienced or the couch potatoes! There is one trail, the White House Nature Trail, which is a 2.5 mile, 600 ft. trip into Canyon de Chelly. Visitors can enjoy this trail without a tour guide; just plan to take 2 hours for the journey.
Most park visitors arrive by automobile and view Canyon de Chelly from the rim, following both North Rim Drive and South Rim Drive. Ancient ruins and geologic structures are visible, but in the distance, from turnoffs on each of these routes. Deep within the park is Mummy Cave. It features structures that have been built at various times in history. Private Navajo-owned companies offer tours of the canyon floor by horseback, hiking or 4-wheel drive vehicle. The companies can be contacted directly for prices and arrangements. There is no entrance fee to enter the park, apart from any charges imposed by tour companies.
Accommodations for visitors are located in the vicinity of the canyon, on the road leading to Chinle, which is the nearest town. The National Monument was listed on the National Register of Historic Places on August 25, 1970.
Related Stories:
Canyon De Chelly
Articles Home Page
---
---
Share This Page with Your Friends