Braided Rugs
Native American hand woven braided rugs are very colorful.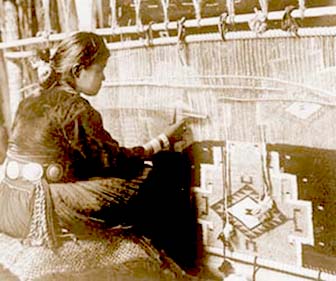 Braided rugs are a popular addition to any house that wants a comfortable, "homey" type of feel. They are not formal looking by any means. Many people probably think that braided rugs started in the Colonial days, from when settlers first came to America. It was in fact the Native American rug weaving techniques that really started the rug design.
The Native American weaving technique was used to make heavy saddle blankets for horses as well as ponchos and ceremonial rugs often used in powwows. Because of these colorful displays, the white settlers sought a way to create their own type of rugs for their new homes. That is how braided rugs got started.
The white women settlers made use of the scraps of material left over from sewing projects to create the braided rugs. Strips of wool, cotton and burlap were often the fabrics incorporated into a rug design. There were several ways to create braided rugs. Plaiting the strips of material together is the most popular technique. Once a number of strips were plaited, then were then stitched together to create braided rugs.
The most common of braided rugs is the oval shaped one. However, these can be in almost any shape or form including squares, circles and rectangles. The only limitation to these braided rugs is the creativity of the crafter.
These days, braided rugs are often made by a sewing machine rather than by hand, simply because they can be very labor-intensive. While the braided rugs we know today are not really Native American by nature, the origins of these items can be traced back to the colonists who copied many of their techniques. They grace many homes these days and provide a soft, cushioned step to anyone who fancies a rustic appearance. Braided rugs care fairly durable and come in a variety of colors and styles.
Related Stories:
Braided Rugs
Articles Home Page
---
---
Share This Page with Your Friends