American Indian Tattoos
Not every American Indian symbol or icon makes a great-looking tattoo.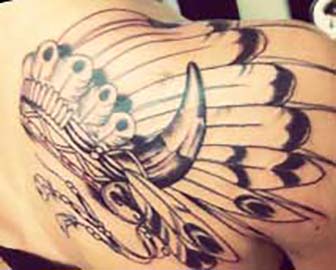 Who wants to have a permanent symbol on their body that is inappropriate, or that is not tasteful? There are a few American Indian symbols that lend themselves to tattoo art very naturally. By choosing one of the following, you can carry a potentially powerful, spiritual reminder with you no matter where you go.
Natural forces. Symbols that stand for natural forces usually have a deeper meaning and can encourage you to take on some positive characteristics. A sun, for example, is a lifegiver, and stands for warmth, growth, and wellness.
If you have a sun symbol for a tattoo, you may gaze at it during moments of frustration and remember to exude an aura of warmth during stress. Clouds and lightning stand for change, renewal, and fertility; an American Indian tattoo that incorporates one of these natural forces could give you strength during times of uncertainty. Spirits.
While you should always be careful not to choose a tattoo symbol that is disrespectful of American Indian religion, designing a tattoo with a spiritual theme can be a sign of awareness. A yeii, or Rainbow Man, is a symbol of harmony and can demonstrate your commitment to encouraging all creatures to work together for the greater good.
A simple hand is a representation of all that man has accomplished throughout history. Feathers. Feathers have many possible meanings. They can stand for warrior characteristics, prayer, or the Creator. It is also possible to use very beautiful colors in an American Indian feather tattoo, which makes this type of icon a natural choice. Animals. If you have always had a connection with a particular animal, a small American Indian representation of that animal is a great tattoo idea. Because animals often have innate characteristics, you can also use the tattoo to symbolize your own personality or character traits.
Related Stories:
American Indian Tattoos
Articles Home Page
---
---
Share This Page with Your Friends