American Indian Pottery
American Indian pottery consists of beautifully constructed art pieces which have been a part of Indian culture for centuries.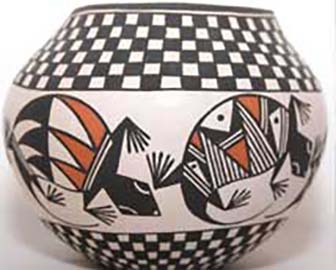 Today, locating quality pottery is difficult. To do so, it may require visiting country towns or browsing antique stores. Among the items found may include authentic American Indian pottery.
Pottery making is a timeless art, which is very difficult to master. As the first nation of North America, the Native Americans living in Canada, the United States, and Mexico had to craft everything from hand. Through pottery making, they were able to create their own water bowls, cooking bowls, utensils, etc. American Indian pottery was also commonly used to store items.
In modern times, many tools are available which make pottery making a little easier. However, the American Indians had to rely on clay, water, and their hands to construct pottery. American Indian pottery incorporates a variety of styles. Each potter has their own taste, and this is often seen in the final project.
In the earlier days, pottery was rarely seen as artistry or a pastime activity. Today, a number of people regularly participate in pottery. In fact, it has also become a means of earning a living for some Native Americans
Throughout North America, many Indian reservations are home to thousands of Native Americans. However, some Indians have selected to live outside the reservation. Although these American Indians chose to blend into American life, they maintain rooted to their culture. Thus, several Native Americans have begun crafting authentic Indian artifacts and selling these to the public.
American Indian pottery is a highly sought after artifact. These pottery items have a unique Indian touch, and include artistry common to Indian culture. There are many Native American women potters, and some choose to showcase their art in galleries, or sell their handcrafted treasures online.
Disclaimer: Indians.org does not personally endorse or support any of the comments made within the writings of this article.
Related Stories:
American Indian Pottery
Anasazi Pottery
Native American Pottery
Southwest Indian Pottery
Articles Home Page
---
Share This Page with Your Friends