Programs of the American Indian Heritage Foundation
AIHF has distributed to date an excess of $40 millions in food, clothing, blankets, toys, building supplies, educational materials, medical equipment & supplies ect.,
This annual AIHF sponsored event has enriched the lives of hundreds of young Indian women. The program theme "She Walks In Beauty, As She Walks In Two Worlds", encourages young Indian women to balance the traditional ways of their ancestors with the ways of the modern world.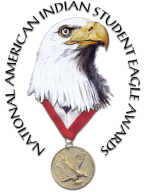 This youth awards program, K - 12, established in 1983 seeks to build confidence, self-esteem and self-awareness in American Indian youth through public acknowledgment and reward for their achievements.